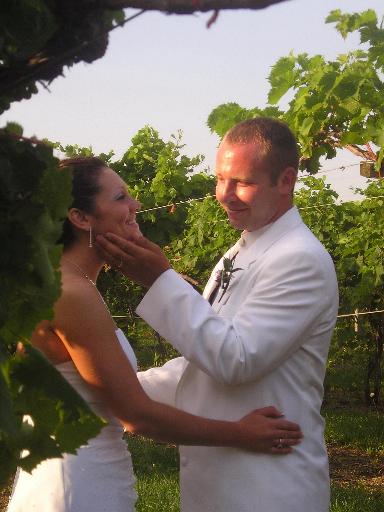 Special Events
Weddings - Anniversaries - Birthdays - Meetings
Holy-Field Vineyard & Winery is available for all your special events.

Weddings, wedding receptions, anniversaries, meetings, special occasions and group wine tasting can all be held in the Banquet Hall. Seasonal weddings can be held in the vineyard, strictly subject to the vineyard work schedule.

Tours of the vineyard and cellars are available with advanced reservations. Due to our small staff and work schedule these are usually done on weekends only. Tours and tasting events require advanced reservations and there are fees for use of the Vineyard Room.

You can also enjoy the use of our deck and gazebo. Bring your picnic basket and enjoy the view overlooking the vineyard. Use of the deck for wine drinking and picnics is free and is usually open during regular hours.

To inquire about facility availability and pricing, call Mandy or Michelle at 913-724-9463 (WINE).